| | | |
| --- | --- | --- |
| | | |
| | | |

As with all cancers, early detection is important in treating prostate cancer and improving chances for recovery. COMAPC is committed to helping all men take responsibility for their own health. Knowing more about the risks of prostate cancer, as well as detection and treatment are the first steps in controlling this disease. We do not offer medical advice, but we do encourage every man to discuss this information with his healthcare provider.
More...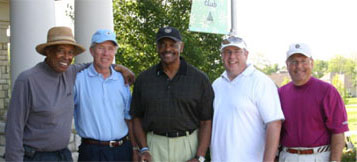 While no one knows the cause of prostate cancer we do know that it is the second leading cause of cancer death in the United States. One out of every seven men will be diagnosed with prostate cancer. Every man should know the risks and get screened for prostate cancer. Early diagnoses can result in life saving treatment.
More...
Paul's Story
Our guest speaker for the 2018 Par For Life golf tournament was Paul T. Young. He is a retired Columbus Firefighter serving the city of Columbus for 32 years as a firefighter and Lieutenant. After retirement in 2012, he worked for 2 years as a fire dispatcher with MECC, the NE county townships fire and emergency dispatching center. He is the event coordinator for the minority retired firefighter organization, ORGnG that he ehlped found. He is a prostate cancer survivor and has become an advocate and a speaker for the cause. He presented his experience to the audience participating in the golf tournament. Young is a passionate and knowledgeable speaker and gives a "no holds barred" account of his journey from diagnosis to treatment to survivorship. He also uses his Facebook account to educate as many people as possible. COMAPC recognizes the value of having a survivor share his story and we are thankful to Mr. Young./span>
IN MEMORIAM
Egbert C. Brown passed away in 2016. He was actively involved in the establishment of COMAPC and served as the secretary until his illness and death. He participated in the American Association for Cancer Research Scientist to Survivor Program as an advocate. He was selected to serve with the Department of Defense Prostate Cancer Research Program as a consumer advocate reviewer. He recieved an award of excellence from COMPAC for his local and national work. He was a passionate advocate for educating the public about prostate disease, education and research.
Dave's Story
In November of 1998 I went for my annual physical with my primary care physician. The digital rectal exam was fine, but a few days later he called an informed me that my PSA was 5.4 ng/ml. He suggested that I immediately see a Urologist.
More...

Jim's Story
My prostate cancer adventure started with a physical exam in December, after my 57th birthday. I thought I had nailed my exam. My weight was as low as it had been in over 10 years; my cholesterol was about 160 and my blood pressure was 128/80. I was feeling good!
More...