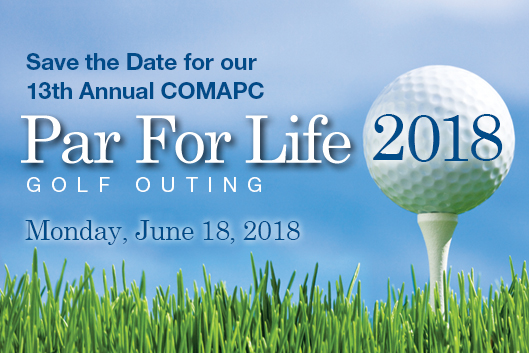 Thanks once again to all of our sponsors, donors, and participants for your show of support for the 13th annual Par for Life.

Please check back periodically as we will update this page with sponsor thanks and other information about next year's Par For Life 2019!
All proceeds support the COMAPC mission of increasing prostate cancer awareness and routine screening through education, support, and advocacy across cultural and economic barriers. Our primary focus is to reduce disparities that exist in prostate cancer among minorities and the medically underserved.
How You Can Support Par for Life 2019
As a Sponsor
Help support Par for Life 2019 by becoming one of our sponsors. Receive recognition on the COMAPC website, in tournament promotional materials, and during tournament day activities. To view and/or download our sponsorship opportunities, click here.
You can also contact us at parforlife@comapc.org or by calling Walt Buss at 614-203-5706.
You will need Adobe Acrobat Reader to view the PDF.
As a Golfer
Register your foursome now to avoid "missing the cut". We expect to sell out again this year and wouldn't want you to miss this great event.
You don't need a complete foursome to register. If you don't have a foursome, we will make sure you are placed with a "ringer" and other fun loving outing participants.
To register, download our Player Registration Form here.
NOTE: NorthStar Golf Club members download here.
You will need Adobe Acrobat Reader to view the PDF.
As a Donor
You may donate on line using our secure server here.
Or, to donate by mail do one of the following:
To donate as an individual, download our Individual Donor Form here.
To donate as a business, download our Business Donor Form here.
To donate on behalf of a foursome, download our Team Support Form here.
To donate in memory of a relative or friend, download our Memorial Donor Form here.
You will need Adobe Acrobat Reader to view the PDF.
We look forward to seeing you for the 14th Annual Par for Life 2019!!
COMPAC would like to thank those individuals and corporations who supported our Par For Life Trivia Night at The Boat House in September of 2016. We send a special thanks to our event organizer, Mrs. Nannette Reynolds of Reynolds Event Management.
We enjoyed presentations by a prostate cancer survivor, Dr. Richard Roy, Urologist, one of our medical advisors and Dr. William J. Hicks, oncologist. Our other medical advisor, Dr. J. Paul Monk, was also in attendance. Guests enjoyed a trivia contest, dancing, dinner, a putt-challenge and a silent auction.
Keynote speaker for the evening was Colonel James Williams of Pennsylvania, a prostate cancer survivor diagnosed in 1991. He has been an advocate for 21 years. He is the immediate past chair of the Intercultural Cancer Council at the University of Houston and is principal of Jim Williams and Associates – a consulting firm that specializes in prostate cancer awareness, education and advocacy